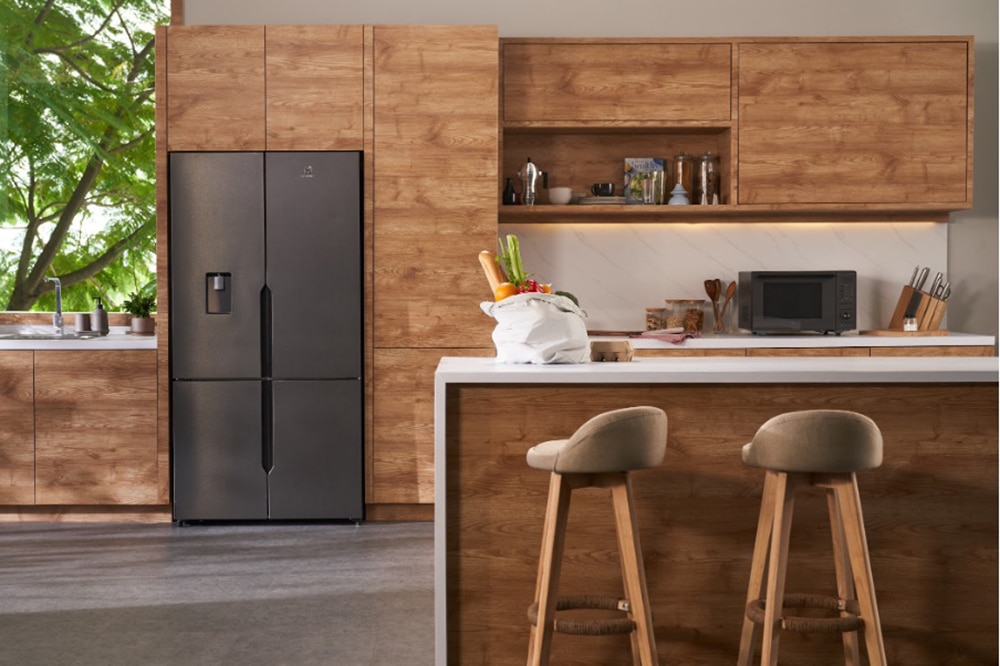 A French door refrigerator has a wide multi-door compartment at the top, and a freezer at the bottom - an improved, more efficient configuration that offers added storage flexibility.With more shelves and door bins, it has quickly become a popular choice for homeowners today. But good can be made better.
Introducing the Electrolux UltimateTaste 700 French Door Refrigerator. It provides better food preservation and greater flexibility, but not at the expense of style. With a slimline shape and a unique integrated handle design, it blends in with your kitchen for a more modern, sophisticated aesthetic.
Why you need a French door refrigerator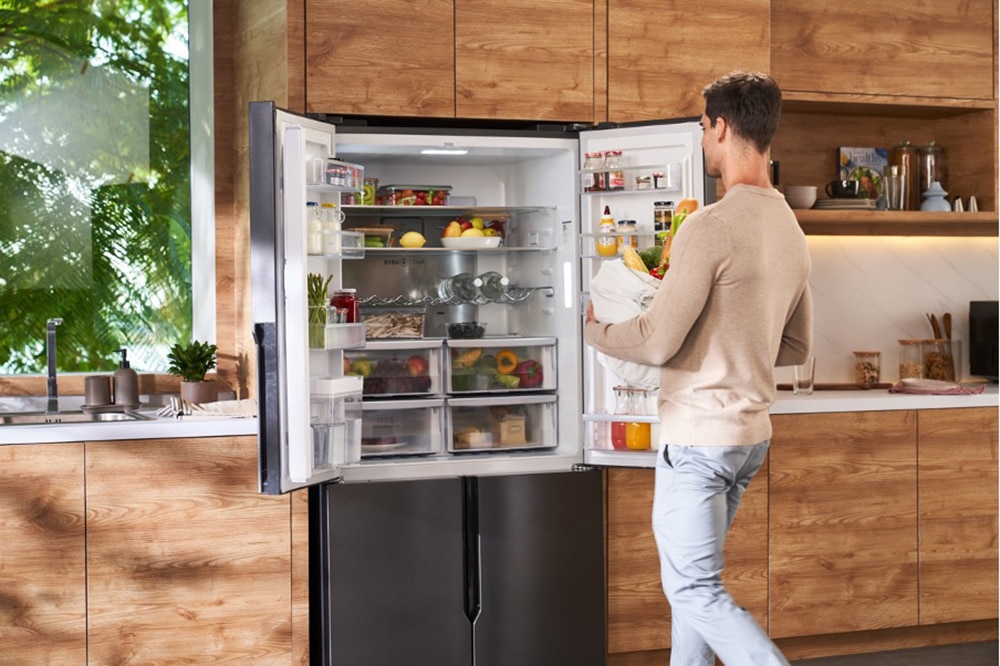 Flexible full width storage
A French door refrigerator offers maximum space utility to keep up with the demanding storage needs of big families. Its full width can hold long trays of sushi or kebabs, while shelves can be compartmentalised for condiments or leftovers. It also offers more door bins to store beverages and sauces.
There is a lot of space to utilize with to better organise food and drinks of varying sizes.
More essentials at eye level
Most of the time, you grab items from the fridge section more than the freezer. With the freezer at the bottom, the full width of the fridge is brought closer to your line of sight.
This provides easy access to more items that you frequently reach for. No more straining your back to get multiple items to prepare a big meal. Comfortably and easily locate each ingredient.
You also have more visibility of the full width of your fridge — from the shelves to the door bins. This allows you to easily monitor perishable items, and effectively organise them to lessen spoiling, thus reducing food waste.
Sleek design
What if only one appliance can elevate the overall look of your kitchen? As large appliances tend to become the focal points of your kitchen, A French door refrigerator is a practical design choice because it gives off a professional feel, instantly elevating your space. Modern yet classic, it complements almost any kitchen theme.
Space efficient
A French door fridge is a suitable choice if you plan your refrigerator to face an island or a tight hallway. Its narrow doors give more clearance and mobility in the kitchen, compared to a standard one-door fridge.
It can also contribute to the aesthetics in your kitchen, making the area appear larger and less cramped, especially since refrigerators can easily look bulky. With a more open space, it's easier to cook and dine with family and friends.
Energy efficient
Every time you open your fridge, cold air escapes, which causes it to use more energy in an effort to recover the optimal temperature.
The solution? A multi-door refrigerator. Swing open only a fourth of the fridge, quickly grab your food, and close. This minimises temperature fluctuations, reduces energy consumption, and overall saves you on energy costs in the long run.
Why the Electrolux UltimateTaste 700 French Door Refrigerator?
Food storage like never before
The UltimateTaste 700 four-drawer compartment efficiently and cleverly utilises the big fridge space that usual French door refrigerators have - and with more room to spare.
Each drawer is dedicated to different storage needs and volumes, so that any food, no matter its preservation requirements, is kept in the most optimal conditions, extending its freshness for longer.
This storage system includes two TasteLockAuto drawers to keep your produce bursting with freshness, one TasteSealPlus drawer for chilling different items, and one DeliDrawer for dairy and delicatessen products.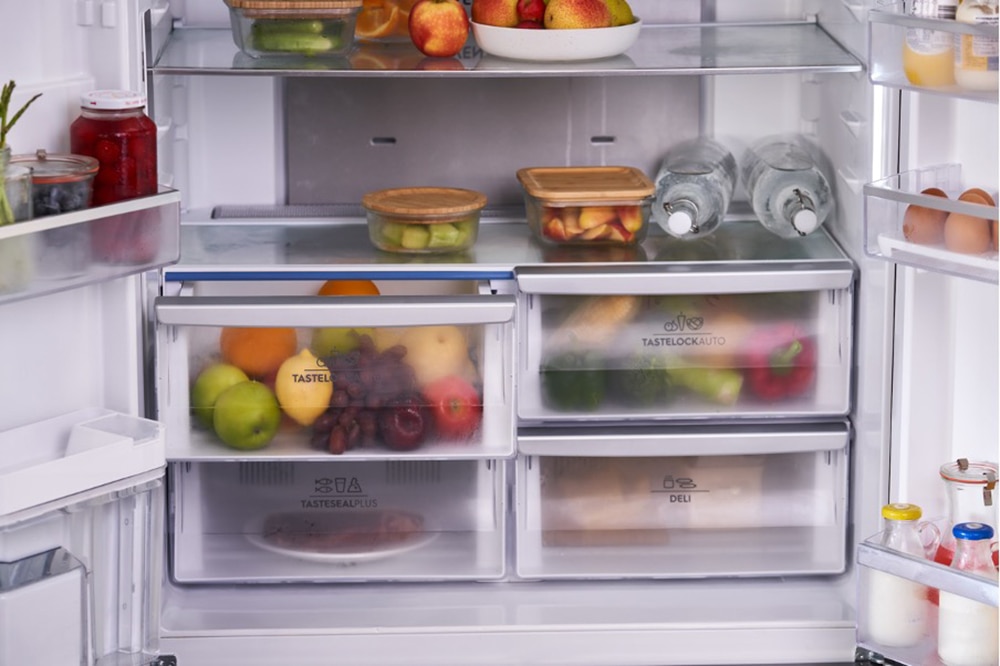 Every food has its own unique compartment — a feature that's especially useful for large households who regularly bring in boxes of groceries every week. Items are easy to organise, easy to locate, and easy to return. Other than the freshness of your food, you also maintain the neatness in your fridge, for longer.
Ergonomic and sleek design
The UltimateTaste 700 French Door Refrigerator provides both style and functionality. The extra-wide doors can be opened by up to 122 degrees, providing easier access to door bins and full extension of drawers. In addition, the 1800 mm height is based on the standard height of most kitchen shelves. This allows you to reach for your top-most items with more comfort.
The sleek appearance of the UltimateTaste 700 also adds to the sophistication of your kitchen with minimal 27mm gap between the fridge and your cabinetry.
To reduce bulk, the thickness of the doors was minimised while side pocket handles contribute to a more slimline look. Elegant yet practical, this refrigerator is not just as a functional appliance, but a furniture piece to complete your whole kitchen.
Fresh fruits and vegetables for longer
Properly storing easily perishable fruits and vegetables is key to reducing food waste. The UltimateTaste 700 with TasteLockAuto crispers lock in the deliciousness, freshness, and the nutrients of your delicate produce.
These sealed drawers have an automatic humidity control that removes excess moisture to reduce condensation. As a result, your fruits and vegetables receive the optimal amount of humidity they need. This technology has also been proven to retain the initial vitamin C content of blueberries for up to seven days.*
The UltimateTaste 700 crispers are equipped with a Nutrifresh antioxidant filter to reduce ethylene gas, a chemical emitted by some fruits like apples and pears that causes other produce to ripen or spoil faster. With two drawers, you're able to completely separate ethylene gas producers from the rest, slowing spoilage further.
Don't defrost
Inside the TasteSealPlus drawer of the UltimateTaste 700, the temperature especially adapts to the specific preservation requirements of different items, giving you the freedom to store a variety of food.
With temperatures ranging from -2°C to 3°C, use it to chill drinks, fresh vegetables, and even tender meat and fish. No need to freeze meats to avoid inconvenient defrosting. A consistent -2°C temperature is maintained to keep delicate meat and seafood in prime condition for up to seven days.
The drawer can also retain the protein levels of beef by up to 98% for three days.** Cook steaks fresh, straight from the fridge to enjoy their natural textures and flavours.
Chilled water and ice on demand
Simple tasks can be simpler. The UltimateTaste 700 with WaterStream lets you enjoy a chilled glass of water with a press of a button on the fridge door — no need to open it. Even cooler? AutoIce automatically freezes water, so you always have crystal-clear ice at hand to quench your thirst.
With these simple yet convenient functions, you not only keep cool, your fridge does too. Minimising frequent opening of your refrigerator keeps cold air inside, preventing your fridge from using excessive energy.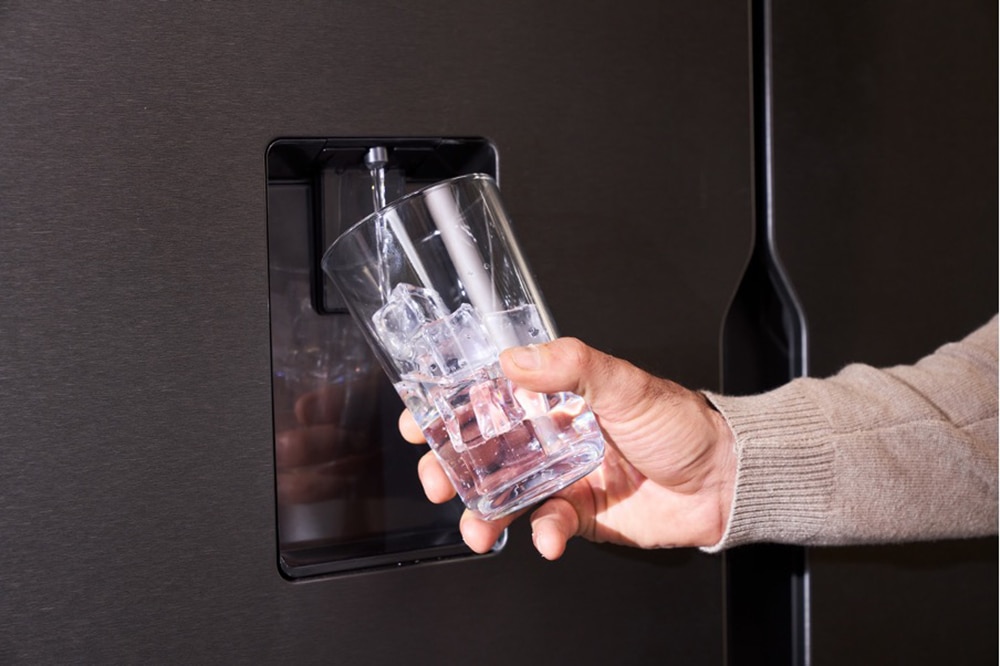 More hygienic storage
Food is best savoured when you're sure it's clean. The UltimateTaste 700 with TasteGuard Ioniser eliminates up to 99.9%*** of bacteria by releasing negative ions into the air. This protects you and your family from any foodborne illnesses caused by raw uncovered meats or spills. By simply ensuring everything inside your refrigerator is fresh and safe to eat, you're already making a big difference for the environment.
Go beyond the basics
A refrigerator isn't only for storing your food. It should be something that helps you adopt better food habits, and solves your specific storage needs, while also matching your design concerns.
In the Electrolux UltimateTaste 700 French Door Refrigerator, innovation, space efficiency, sustainability, and style meet. Consider all these important factors in choosing your cooling companion, and notice how your lifestyle improves. Explore more of Electrolux refrigerators here.