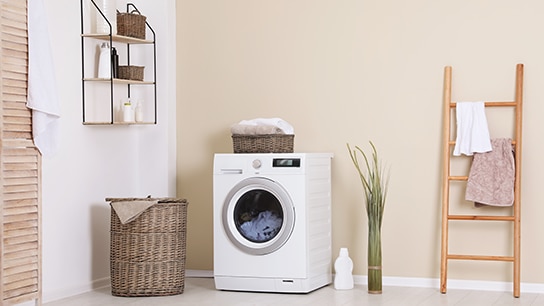 Other than its function to wash the laundry, a washing machine can be used as a long term investment. How does one make a washing machine as a long term investment? The washing machine must be of quality type and durable. By owning a quality and durable washing machine, as addition to saving money from repair cost, when it's time to sell it due to a house moving or other reasons, it can be sold at a significant price.

A number of leading manufacturers have made many premium washing machines with various sophisticated features that allow the appliance to last. An appropriate maintenance also allows the long life of the appliance.

Therefore, you must be careful when buying washing machines. The following tips can be used as guidance to find the required equipment.


A large capacity washing machine will meet the needs of people who live in a large family. A washing machine capacity is usually measured in metric kilogram and the suggested capacity for a family with two children is between 8-10 kilograms. But you must adjust to your needs to prevent inefficiency.


A high spin speed has the potential to remove more water at the end of the washing process. Therewith, the clothes will dry faster. In general, washing machines have a spin speed of 1,000-1,200 rpm, and there are some that can reach 1,600 rpm. Basically, most washing machine models available in the market have adjustable spin speed modes.


Available programs and features
Not only concerning models, washing machines are also offered based on programs and main features. Some washing machines can do washes in less than 30 minutes, and are usually effective for a low count of clothes. Some are capable of removing stubborn stains to prevent the cloth from causing allergic effects on its wearer.


A washing machine with long term investment potential


Having difficulty to find a washing machine that meets the above criteria? In this case, Electrolux that has been long known with quality and durable washing machines has made available an 8 kg UltraEco™ 500 washing machine, the EWF8005EQWA. Other than having a capable capacity because if its 8 kg washing capacity, EWF8005EQWA is also equipped with 1000 rpm spin speed that can remove water at the end of the washing cycle which will dry the clothes faster. The 8 kg UltraEco™ 500 washing machine, EWF8005EQWA is also equipped with Quick 20 speedy washing program that allows washing in less than 30 minutes.

Last but no less important, the 8 kg UltraEco™ 500 EWF8005EQWA washing machine will be far from risk of damage, so it can become long term investment.