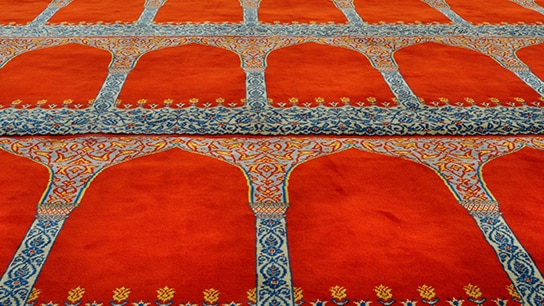 Vacuum cleaner is quite a functional appliance. Not only does it vacuum away dust and dirt particles hiding in sofas, curtains, and other places, but it can also be relied on to vacuum the hidden dust in the innermost parts of a mosque.

Of course, to especially clean the carpets of a mosque, you need a vacuum cleaner with particular specifications. The following are easy tricks to choose a vacuum cleaner to clean the carpets of a mosque.


1. Having a Large Capacity

The size of a mosque carpet is different from household carpets. For mosques, they usually use carpets with thick and considerably long face fibers with a size in accordance with the expanse of the mosque. Moreover, mosques are generally open at all times, making the dust risk higher.

To overcome this, you certainly need a vacuum cleaner with a large capacity and considerable strength to completely vacuum all the dust.


2. High Maneuverability

Cleaning a mosque from dust requires a vacuum cleaner with high maneuverability. Hence, choose a strong vacuum cleaner that doesn't heat up easily, with a considerably long power cord, so every corner of the mosque can be clean optimally.

Furthermore, choose a vacuum cleaner with ergonomic wheels that are capable of nimble movement for a maximum performance of the dust cleaning process.


3. Consider the Wet and Dry Feature

Not just dust, the carpets of a mosque are often subject to issues, such as damp or even wet carpets due to the water from wudu being taken into the mosque, AC leakage, water spillage or other causes.

To prevent the carpets from being dirty and smelling musty due to being wet, you need to consider buying a Wet and Dry vacuum cleaner.


Electrolux Offers One of the Best Vacuum Cleaners

For mosques, you can't just choose any vacuum cleaner. Make sure to use the Electrolux Z931 Wet and Dry Vacuum Cleaner. This vacuum cleaner is very suitable for mosques because of its high capacity and the micro filter capable of optimally filtering dust.

Also, the Electrolux Z931 comes equipped with the ability to vacuum moisture in the carpets, ensuring that the carpets in a mosque stay dry, soft, and dust-free. With the Electrolux Z931, all your vacuum cleaner requirements for a mosque are fulfilled!