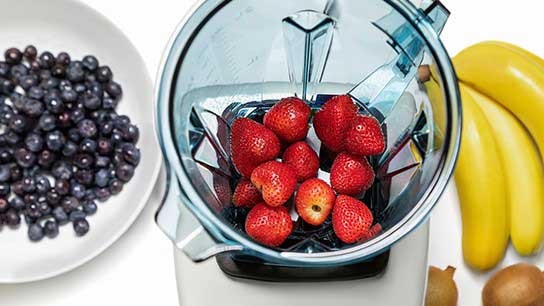 A blender is usually used to process soft and watery stuff such as fruit and vegetables, when making smoothies or mixing cold drinks. Other than the main functions, it turned out that a blender can be used for other purpose.


For example, you can use a blender to make soy milk. Here's how to do it: Put soybean to process into soy milk together with water, then blend them smooth. Then filter the result to get smoother soybean juice.


Other than to make soy milk, a blender can be used to make vegetable milk or other processed drink, such as almond milk, green bean juice, and others. The procedure is the same as above. The ingredient is mixed with water, then processed as usual.


As addition to making vegetable milk, a blender can be used to make other processed food, such as:


You can make your own chili or tomato sauce by blending all chili or tomato sauce ingredients with water until they are smooth, then cooking them completely.
You can mix pancake dough. The procedure is just the same. Put in the pancake ingredients, then process them at low speed.
Other than using a mixer, you can use a blender if you want to make whipped cream. To make the whipped cream expand to maximum, use high speed.
You can make porridge or breast milk substitute by yourself at home. The procedure is to mix red rice with other ingredients such as boiled water (broth), chicken liver and vegetables, then process as normal.

For heavy duty work as mentioned above, you need a high quality blender. The best choice for all the heavy duty works is the Electrolux EBR5604W, a multipurpose blender with very smooth cutting capability.


This is due to the good blade material and design which is specifically maximized to move the processed food with more evenly spread texture.


The capability of the blade driving motor of the Electrolux EBR5604W is amazing. This differs from other blender brand that tends to stop working when used to process food with thick and fatty texture.


In other words, the Electrolux EBR5604W can give convenience and better food result. So, are you interested to own one?