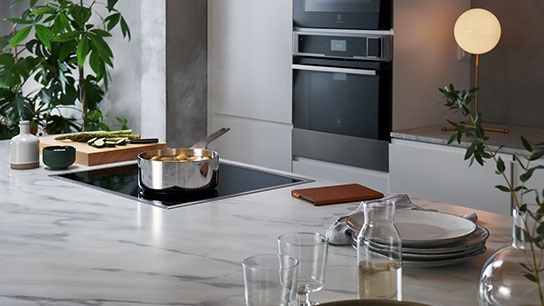 Many people have left behind gas stoves and move to induction hob. It is not without cause. It seems to be caused by interrupted gas supply, safety issue related to gas cylinder explosion, and the gas price that tends to be pricey.
What is an induction hob?


An induction hob is actually one type of electric stove, but this hob differs much from the electric stove that uses heating elements. This hob really does not produce heat, and only uses cookware induction to cook food.


Another unique property is that when no pan or cookware is put on the cooking zone, the hob will not produce heat. If a pan or cookware is put on the cooking zone, food will heat up quickly. This makes an induction hob safer.


But to cook with an induction hob, you must use specific cookware. Even though there are wok adapters, it can still give inappropriate results. But you don't need to worry. Many cookwares for induction hobs are now available.


Here are some advantages of induction hobs.
Hob look is very elegant due to the flat shape with glass top and several cooking zones. For a layman, they will not believe that this is a hob for cooking.
An induction hob has touch control, to set temperature, time, and other functions. This what makes the look of this appliance really expensive.
The flat hob top surface made of glass also makes the hob easy to clean. Just one wipe and the hob becomes clean.
We can say that consumed power is more efficient compared to gas which is sometimes hard to get. And today there are more induction hobs with energy saving feature.
But as there are benefits, there also disadvantages. One most obvious disadvantage is that this hob uses electricity so you cannot cook when there is power outage. Moreover, induction hob service cost is quite high.


Nevertheless, in general an induction hob is still more beneficial for household use. So, have you though to move to an induction hob?