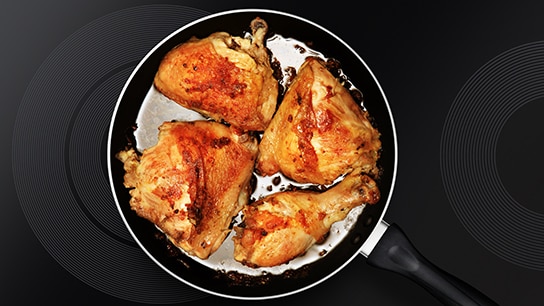 Lately, many Indonesian families are turning from gas stoves to induction hobs. There are several advantages that you will feel when using an induction hob, such as more cost efficiency and a simpler cooking process.

Another advantage of an induction hob is the gorgeous and luxurious look, making it perfect to beautify your kitchen, particularly if you are implementing a modern kitchen concept in your home.

However, many still doubt the capability of induction hobs. They still think that induction hobs cannot or do not perform to the maximum when used to fry meat. Is this true?


Induction Hobs Are Not Optimal for Frying Meat: Not entirely right or wrong

The myth can be both right and wrong. The fact is the capability of an induction hob in heating food depends on the quality of the hob. The better the induction hob used, the faster and more efficient the cooking process, including when frying meat.

Your duty is simply to choose which induction hob product to use. Once you buy an induction hob, don't only use it for stir fry, boiling water, or other light cooking processes.


Electrolux induction hob EHI6450BA is ideal for frying meat

To deliver maximum results, you are recommended to use the Electrolux induction hob EHI6450BA. The induction hob comes with a number of excellent features, such as the automatic safety shut-off, which functions to automatically turn the hob off when the water has boiled.

Furthermore, the hob is also equipped with a timer feature that allows you to cook in the desired time, a touch control feature to set the hob temperature and function, and power boost that enables you to cook fast.

A feature that can't be missed is the automatic pan size recognition, which functions to detect the size and shape of your cookware, then adjusts the electricity used. With this feature, you can save more on electricity.

For you who often cook while multitasking other activities, there is also a child lock that functions to prevent children from playing with the hob's controls. With all of its advantages, the Electrolux EHI6450BA is the best hob for your kitchen activities.

Check out our list of Electrolux induction hobs here for more options.