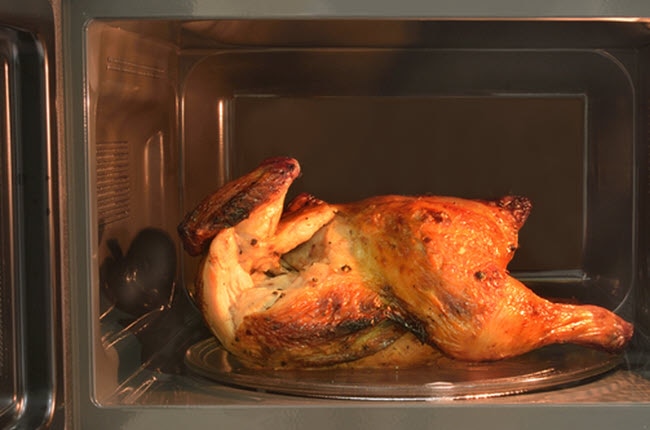 Roasted chicken is one of the special dishes that is pretty easy to make. However, the fact is that many people often fail in making this dish. Maybe only some parts of it are cooked, sometimes some parts are burnt, the seasoning isn't evenly mixed, and other issues.

To avoid another failure, let's check out this no-fail roasted chicken recipe.


Ingredients
1 chicken (can be whole, can be cut according to taste).
8 shallots
3 cloves of garlic
6 candlenuts, toasted
1 knob of ginger, roasted and crushed
2 lemongrass stalks, crushed
5 lime leaves
500 ml of coconut milk
½ a teaspoon of coriander, toasted
3 tablespoons of sweet soy sauce
1 tablespoon of tomato ketchup
The juice of 1 lime
Salt to taste
Sweet soy sauce to taste


How to Make
Wash the chicken until clean, then rub with the juice of the lime, salt, and sweet soy sauce. Leave for 30 minutes to marinate.


Blend garlic, shallots, ginger, coriander, and candlenuts into paste. Set aside.


Sautee the chicken, add the lemongrass, sweet soy sauce, salt, lime leaves, and tomato ketchup. Stir until the seasoning is absorbed.


Add coconut milk and stir until cooked and the chicken is dry. Remove, then directly coat the chicken evenly with the seasoning paste. Set aside.


Prepare a baking tray covered in aluminum foil and rubbed with margarine, put the chicken in and bake in the oven or microwave at 170° Celsius for 20 minutes.


Once it's cooked and golden brown, take out and serve.


Use Electrolux Microwave ovens for perfectly roasted chickens

Our Electrolux EMS3087X Microwave is a highly recommended product when it comes to juicy and crispy roast dishes. The product comes equipped with Grill and Convection. Therefore, it's easier for you to serve baked chicken without the hassle of charcoal, gas, or other baking appliances.

Furthermore, the Electrolux table top microwave EMS3087X has the Automatic Cooking Program. You simply need to press one button to create a delicious dish. There is also the Defrost feature that helps you to soften frozen meat or fish, and multiple other features.

For you who are worried that children may sneak into the kitchen and press the microwave buttons, don't worry because the microwave comes with a child lock feature, a food steaming feature complete with a steaming bowl, and other amazing features. Isn't that interesting?

For more modern and affordable options, let's check out our full list of Electrolux Microwave ovens here.