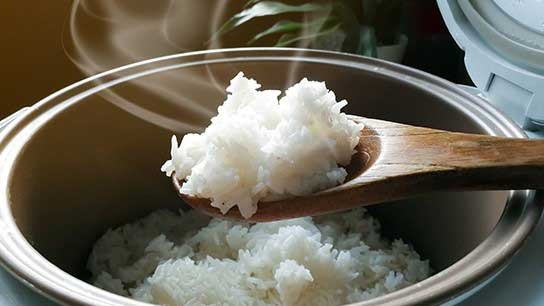 Currently most families in Indonesia prefer to cook rice using a rice cooker than using traditional method. Because other than being more practical, a rice cooker can be used to keep the rice warm and has longer storage time.


But keep in mind that using a rice cooker is not as easy as you think. There are several matters to consider to make the rice perfectly cooked, smooth, not sticking, and has long storage time, which among else include:


Wash the rice at a maximum of three times. This is done to make the rice totally clean, and its fiber content on its skin is not removed.
Make sure the ratio of water to rice is really correct. Fortunately most rice cookers are now equipped with a cup showing recommended rice and water ratio.
If the cup does not exist or the rice cooker bowl does not indicate information about water and rice ratio, you can use a ratio of 1:2 of rice to water.
To make the rice smooth and has good aroma, you can add extra seasoning such as bay leaf, lemon grass, or onion cuts.
To make the rice softer or smoother, you can add 1 tbs of cooking oil before starting to cook. The ratio is 1 tbs of oil for 1.5 kg of rice.
To prevent rice from easily going stale, you can add a little citrus or lemon juice. The ratio is 1/2 t of citrus or lemon juice for 1 kg of rice.

What's not less important is after the rice is cooked, which is signified by the move of the cooking indicator from cook to warm, let the rice stay in warming status for 5-7 minutes. Then stir the rice to remove remaining water.


Things to Consider When Cooking Rice


Make sure you select a rice cooker that has Teflon layer so the rice will not stick easily. And make sure to choose a good quality rice cooker, and one of the most recommended ones is the Electrolux RC6503W rice cooker.


This rice cooker is the best product, equipped with a 3D heating element, which guarantees even cooking result and softer cooked rice.


Moreover, the Electrolux ERC6503W is completed with 9 cooking programs. So not only to cook rice, you can also use this rice cooker for many purposes, from stir-frying vegetables, warming up food, making soup, cooking porridge, boiling water, and other interesting functions.