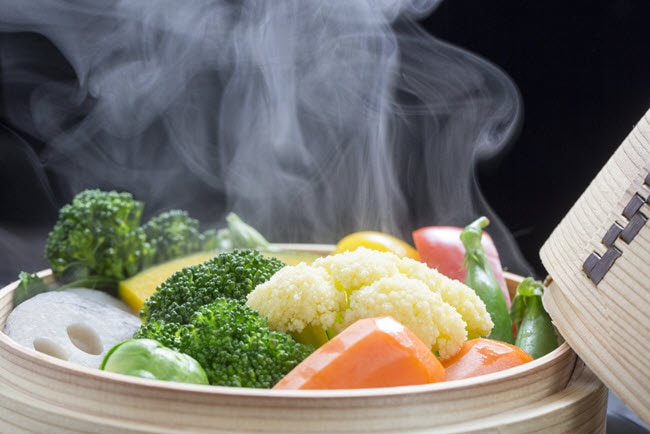 Steaming is one of the cooking techniques to make dishes without involving oil. Compared to frying, the food steaming technique is healthier and capable of keeping the nutrition level of the ingredients intact.

To steam food, you need a steamer. The appliance works similarly to a steamer pot or double boiler but more practical because it uses electricity for power.


How to use a microwave to make healthy food with steam technique

Aside from using a steamer, cooking with the steaming technique can also be done with a microwave, for example when steaming broccoli. It's actually easy, just as using a regular steamer:


Wash the broccoli to be steamed until clean and cut into small sizes. Try to make the sizes uniform for them to be evenly cooked.
Put in a microwave-safe bowl and add a little water (it best to not exceed 5 tablespoons for 1 head of broccoli). Seal the bowl.
Cook in the microwave for 2-2.5 minutes. Test whether it's done (if the broccoli is still hard, reseal the bowl and steam it again in the microwave until it is perfectly cooked).
After it's done, take out the bowl, and steamed broccoli is ready for serving. It can also be processed into another dish, such as vegetable salad.

Steaming with a microwave should use a temperature of more than 100° Celsius but in a short time (2-5 minutes). This is so the steamed ingredient is cooked quickly without eliminating the important nutrients in it.


Electrolux microwave EMS3087X comes with a steam pan accessory for easier cooking experience

Furthermore, make sure you use the Electrolux microwave oven EMS3087X when steaming food. This is because this oven is designed to serve various healthy dishes and comes equipped with a steam pan accessory.

To make cooking easier for you, this microwave also has an automatic cooking program so the steaming process can go more quickly and perfectly.

Other interesting features of the Electrolux EMS3087X are the Child Lock, which functions to prevent children from tampering with the microwave setting, a defrost feature for meat, fish, and other frozen foods, and other attractive features.

You can find detailed specs and user reviews of the EMS3087X product by clicking onto the section below or you learn more about our other Electrolux microwave ovens here.