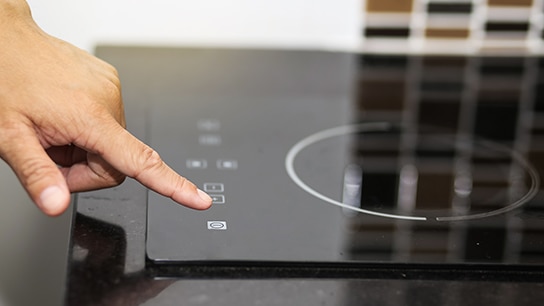 Many people still misunderstand the induction hob. They think that an induction hob is similar to an electric stove while in fact, they are different. Despite both of them using electricity, the induction hob works by induction on the cookware used.

The induction hob works by heating the cookware used. In other words, what heats up is the cookware, not the hob. This is why the heating process of an induction hob is faster and more efficient.

From the safety aspect, the induction hob is very safe and carries minimum risk of fire. This is because when there are no cookware placed on the hob, it will not produce heat, making it very safe even when touched with bare hands.


For a Clean and Luxurious Kitchen

In general, an induction hob has a flat form with a beautiful glass surface. Particularly, the hob uses a touch screen panel that is designed to be integrated with the hob, making it look very luxurious.

Moreover, an induction hob is much more cost efficient compared to an electric stove, which still uses a heating coil to heat food. Cleaning this hob is also very easy, just give it a wipe with a dry cloth and the hob is back to gleaming.

But remember, don't just use any induction hob. Choose the best product from Electrolux, the EHI6450BA, which comes equipped with energy-saving features. This hob is even 55% more energy efficient compared to gas stoves and 20% more efficient compared to ceramic hobs.

>>> Find more helpful advice in our Stove & Hob Buying Guide

Furthermore, this hob has the power boost feature, capable of accelerating the heating process of the cooked food. This induction hob is even able to bring 1 liter of water to a boil in only 3 minutes.

Another attractive feature is the child lock. This feature functions to prevent your little ones from tampering with the settings of the hob when you're leaving it to do other activities. So, what are you waiting for? Check out the superb capabilities of the Electrolux induction hob EHI6450BA.