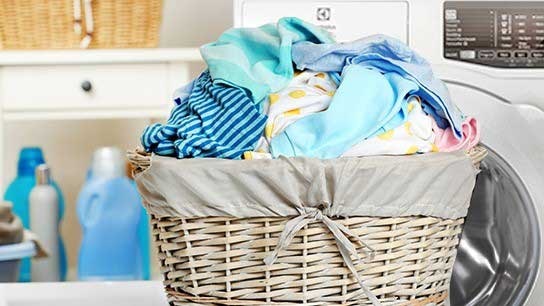 One washing trick we often hear is that the laundry must be sorted by dirt level and fabric type. This recommendation should not be taken for granted, because we can actually mix various types of clothes in one wash.

But there are specific requirements to be considered, such as:
clothes should be sorted, for example those that have rough fabrics with potential to damage others, and clothes with zippers.
The clothes must be sorted according to type of stains. If any heavy stain exists, such as mud, lubricant, and others, the physical stain should be removed first by manual washing.
Mixed clothes should not contain those which color can bleed. For clothes which color can bleed, they should be washed separately first to avoid the color to stick to other clothes.

And the most important factor is the capacity of washing machine and the washing machine used. To wash different type of fabrics, a washing machine that can smartly find stains and clean them optimally without damaging sensitive fabric is required.

What kind of fabrics can be washed together?

There are several categories of fabrics that can be washed together. As an example, delicate fabric may be washed together with other delicate fabrics, or medium softness fabrics. Some examples are silk and its derivatives, such as chiffon, satin, taffeta, dupion, Thai silk, organza, and others. These are delicate fabrics.

Smart Moms can wash the fabrics in one wash together with wool, flannel, spandex, cotton, and others. For maximum result, use smooth washing mode or silk specific washing mode

Meanwhile, rough fabric usually includes denim, corduroy, thick cotton, or cotton usually used to make pants. These fabrics can be mixed with other types of fabrics such as drill, polyester, and nylon. These fabrics are proven quite strong and can be washed with rough fabrics.

To save time in washing process and prevent damage to other fabrics, you can use the Electrolux UltimateCare™ washing machine, which is present with various interesting features, to make the washing process easier, with maximum clean result.

You should not worry about delicate fabrics and those that easily generate lint such as silk and wool, because this washing machine has acquired the Woolmark Apparel Care certificate which proves that Electrolux UltimateCare™ is safe to use to wash wool fabrics. Cool, isn't it?