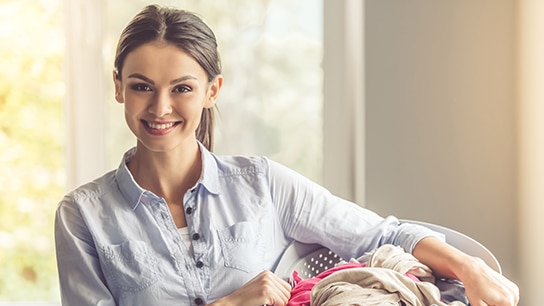 Sorting the clothes to be put into a washing machine could be a clue you frequently heard of. But some people who do not have much time or are just lazy and stuff their laundry in without sorting. Then will the laundry still be washed clean? Will some of the clothes have color bleeding or suffer damage?


Washing all the clothes together can be done, provided that ...


Apparently, you can put clothes of different types into a washing machine. But there are some requirements you must consider, which among else are:
Not putting rough fabric clothes with potential to cause damage to others. For example: denim jacket and pants with zipper;
Sort clothes based on stain type. If there are clothes with a heavy stain such as oil and mud, you should clean them first manually;
Make sure there are no clothes which color will bleed. You should wash them separately so the color bleed will not stain other clothes in the washing machine.
Do not forget to check the washing machine capacity. Not all washing machines can wash clothes of various fabric types in a large amount. Moreover, do not try to stuff clothes beyond washing machine capacity. This will not only damage the appliance's internal component, but also the washed clothes.


Types of fabric that can be washed together.


Some fabric categories can be washed together. Some examples are clothes made of soft or medium softness fabric. Some examples are silk and its derivatives (satin, organza, Thai silk, taffeta, dupioni, to chiffon). You can wash the clothes of the fabric type in the washing machine together with clothes made of wool, flannel, cotton, to spandex. Select smooth or silk washing mode to maximize washing result.

Meanwhile, basic fabric category usually covers denim, thick cotton, cotton for pants, to corduroy. Clothes of this type of fabric can be washed together with drill, nylon, and polyester clothes. These types of clothes can be said to be tough when washed with fabric that has a thick and rough texture.

To optimize washing result, wash the stack of laundry using Electrolux EWT2H88M1SB EliteCare 300 top load washing machine. The cyclonic care pulsator feature on this washing machine will wash away dirt without causing damage to any fabric. Moreover, the EWT2H88M1SB is also equipped with a DDM inverter motor that allows the washing process to run at maximum and efficiently without unnecessary noise.
Happy washing!