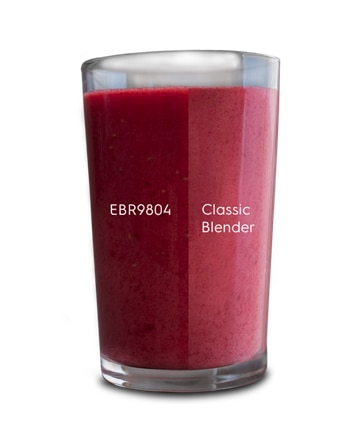 What's the most delicious way to consume fruits? Some people choose to eat them directly due to practicality, but some take the time to make fruit juices.

Whether eating them directly or processing them into juices, fruits are beneficial for our health. However, you need to be careful when turning fruits into beverages, especially if they leave considerable pulp. What's the correct guide to making fruit juices? Is there a method that minimizes the residue?


Tricks to make healthy fruit juices

One of the mistakes most people make is using a blender with blunt blades or ones which are unsuitable for fruits. It's better for you to use a quality blender, such as the EBR9804S Blender from Electrolux.

This is because the sharp blades of this appliance can blend fruits very smoothly, leaving no pulp at all. The titanium coating on the blender blades will also prevent them from rusting due to exposure to large amounts of fluid.

Then, pay attention to the ingredients you are using. There's nothing wrong with using sweetener such as sugar, condensed milk, or chocolate to enrich the flavor of the fruit juice.

However, if your purpose of making fruit juices is to maintain health, avoid using artificial sweeteners. Choose fruits which are already sweet or use a natural sweetener, such as pure honey. Also, reduce the water to retain the flavor of the juice.


Check the ripeness of the fruits

Fruits, as the main ingredient of juices, must be the main focus. Choose fruits at the right ripeness that are fresh and timely harvested. It's quite difficult to find fruits with those qualities, particularly if purchased from the supermarket. It would be ideal if you get the fruits from a trusted fruit vendor.

However, another looming risk after getting fruits with perfect ripeness is that they easily spoil. It's recommended that you process the fruits soon after you get them and don't store them for too long. Most ripe fruits have the with a soft texture, making it easily crushed when using Electrolux blenders such as the EBR9804S.

With the 100 tilt technology, the product will spin but the generated temperature will remain low, which keeps the juice fresh, highly nutritious, and with a brighter color than juices produced by other blenders.

Happy juicing!