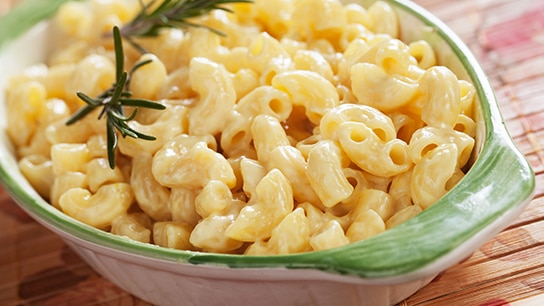 For you Mac & Cheese lovers, this dish is not just a treat for your palate but it's also important to enjoy the process of how the dish is made, and which of the best recipes is the ultimate favorite.

Some people may prefer Mac & Cheese with a thick cheese flavor, while some focus on the texture of a moist sauce that evenly coats every piece of macaroni. The point is, whatever the recipe, this food must be served at maximum deliciousness.

For you who want to serve Mac & Cheese with an amazing flavor profile but short serving time, check out the following recipe. Just by using a microwave, Mac & Cheese will be served in only 5 minutes.


Main Ingredients
200 grams of macaroni
300 ml of water (to boil the macaroni)
150 grams of melting cheese (grated)
100 ml of plain milk
½ teaspoon of salt (can be added according to taste)
½ teaspoon of pepper (can be added according to taste)


How to Make
Put the macaroni in a microwave-safe container, such as the food serving products from the Amethyst series (safe for microwave use)
Add water and salt, then mix evenly
Put in the microwave then heat for 4 minutes
Take out the container with the cooked macaroni, drain the water then add milk and pepper
Add melted cheese on top
Put back in the microwave for 1 minute.
Take out from the microwave, and Mac & Cheese is ready to serve.
Use Electrolux Microwave EMS3087XU for the Best Cooking Results

How easy is that? To make serving this special dish even simpler, it's highly recommended to use the Electrolux EMS3087XU microwave oven, the best product with the grill and steam options as well as other interesting features.

No need to be unsure when cooking anymore, because the Electrolux EMS3087X microwave oven comes with auto cook programs technology that provides many conveniences when cooking. Moreover, there's a Child Lock that functions to ensure that your settings are not tampered with by the children.

One thing for sure, with the Electrolux EMS3087X microwave oven, cooking Mac & Cheese and other delicious dishes will be much simpler, faster, and more fun!

Check out more high quality microwave ovens from Electrolux Indonesia here or refer to the section below to find full specs of the EMS3087X product.