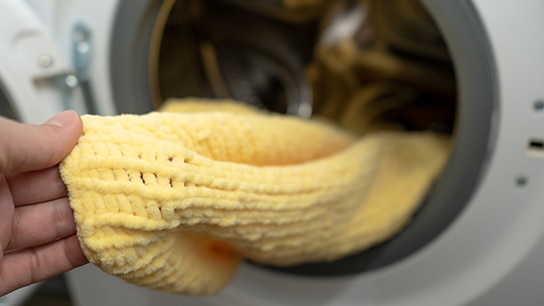 Wool clothing is surely very comfortable to wear, especially in the rainy season. On the other side, wool is categorized as fabric that requires meticulous care, considering the vulnerability to damage if not washed carefully. Even using incorrect detergent has the risk of damaging its delicate texture which will induce itching and allergy on the wearer.

So it is important for you to know the guidance on washing clothes made of wool. When you use a washing machine, for instance, make sure the appliance is from a trusted brand such as Electrolux. They have been long known as the producer of best electronic appliances, which among else includes the Electrolux EWF8025EQWA UltimateCare 500 washing machine.

Washing wool clothes using a quality washing machine


Clothes washed in the Electrolux EWF8025EQWA UltimateCare Washing Machine are not only free from dirt and are soft, but can also get germs and allergen removed up to 99.9%. Moreover, the Electrolux dependable washing machine has acquired Woolmark recognition that makes it friendly with wool clothes.

Now you can continue with your washing activities with the following guidance:
Do not use bio-detergent. This kind of detergent contains enzyme that can eat protein based stains. It is good to remove stubborn stains. But if it is applied on wool clothes, their thread fibers will be destroyed. This is because wool fibers are materials that have protein content which have the risk of destruction when dealing with bio-detergent. So you should select non-bio detergent.
Using specific wool washing program. As mentioned earlier, t

he EWF8025EQWA UltimateCare Washing Machine has

been recognized by Woolmark, so you need not to worry about the washing process in it. Nevertheless, you must make sure that the spin speed used is not too high to maintain the wool fibers on the clothes.
Select the lowest spin option. The lowest spin option is highly recommended to keep your wool clothes in good condition.
Dry naturally on horizontal position. Wool is a heavy fabric, so if it is hung, the fibers will go down and make it loose. It is better if wool clothes are dried naturally on horizontal position or put on a towel surface, so the water will be absorbed by the other fabrics without a change in dimension.

We expect the above tips to wash wool clothes will help you to maintain your beloved clothing.