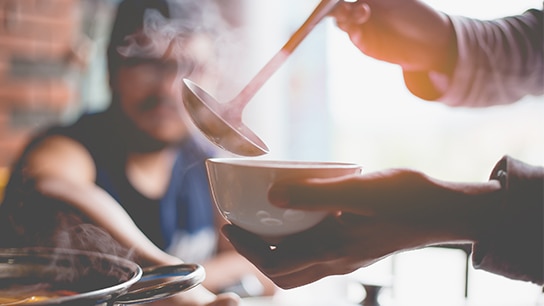 Sometimes we accidentally put too much salt on the cooked food. Of course other than hazardous for health, excess salt can make the food less delicious.


But you don't need to panic. To solve this problem, you can do some of the following tricks to handle the food which is too salty caused by too much salt.


Add Water
Flavor correction is usually done before the cooking process ends. When it tastes too salty, the first thing you can do is adding more water to prevent the food from getting to salty and get the taste just right.


But remember, it is not just any water. It is better to use already boiled and hot water. Therewith, you don't need to wait for the food to get hot, which makes the cooked food losing its nutrition.


Add Sugar
As addition to serve as flavor booster, sugar can serve as salt neutralizer when cooking. You can use this capability by adding a little sugar on a food which is not too salty. The sweet sugar taste will cover the salty taste and make the flavor stronger and delicious.


But don't add too much. Do so only as necessary. If required, you can add a little more water to make the food less salty and not too sweet because of too much sugar.


Use a Quality Hob
It does not seem to have direct correlation, but in fact many people do not focus during cooking which causes food to get too salty due to hob problem, for example when cooking too long which causes you to forget whether the food has been given salt or not.


Therefore, it is important to use high quality hob. For a modern kitchen, the Electrolux EHED63CS is the best choice. As addition to its elegant look, this induction hob comes with many interesting features which make cooking process easier.


The heating speed of the Electrolux EHED63CS is also superior. You only need 3 minutes to boil 1 liter of water to its boiling point. And moreover, this hob power consumption is very low, even 55% more power efficient than gas and 20% more efficient than ceramic hob.


With the Electrolux EHED63CS, it's like you have a professional kitchen, which will highly support serving of food which is not only more healthy, but also delicious and practical.