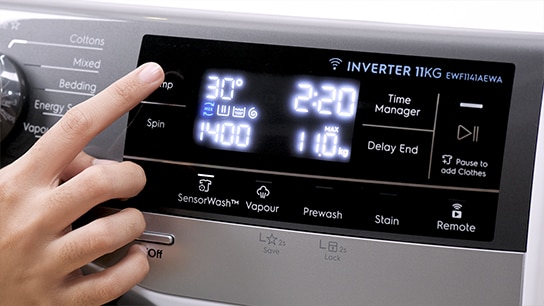 Without water, you'd have difficulty to clean your clothes, isn't it? It is also water that will dissolve the detergent used to remove dirt. But there is a thing some people don't consider much: temperature of water used.

Washing clothes without paying attention to water temperature can damage the fabric and reduce its quality. Some fabrics are very sensitive to bleeding, damage, to creeping. Therefore, you first must find the right temperature for the type of dirt and fabric.



Water with hot temperature is recommended to clean white clothing. As an addition, very dirty clothes such as diapers will be clean faster when you use hot water. In this case, the recommended temperature is 54oC to quickly remove all dirt and germs.

As an addition to clothing, drapes, kitchen wipes, and towels may also be washed using hot water. Clothes with severe stains such as lubricant and oil will also be cleaned faster if you use hot water. But you should check the wash labels on the inside of the clothing to prevent shrinkage or other damages.
The warm water used to wash clothes must be at the temperature of 32oC. Because the temperature is not too hot or cold, the water is suitable to wash clothes made of jeans, synthetics, and knits.

Dark color and lightly stained clothes may also be washed using warm water. Basically, warm water is suitable for most types of clothes because the temperature will not induce shrinkage on clothing.
Many people think that cold water is suitable for all types of clothes. Such opinion is not totally wrong because cold water will not cause damage on fabric and is effective to remove dirt and stubborn stains.
Type of clothing ideally washed using cold water. Any fabric that easily bleeds color, made of soft fabrics (wool, silk, stocking), has fragile construction (with knitting or decorations), and is not too dirty. Concerning temperature, the recommended temperature to clean these clothes is below 23oC.
As addition to considering water temperature to clean the clothes, you may not ignore the washing machine to use. Electrolux as the leading electronic appliance manufacturer presents UltimateCare™ 500 WF8025EQWA washing machine to get the best out of washing.
The UltimateCare™ 500 EWF8025EQWA washing machine allows you to wash clothes using water temperature suitable with the clothes to wash. With this feature, you can wash clothes optimally without damaging the clothes while optimizing clean water usage at a specific temperature.
Happy washing!