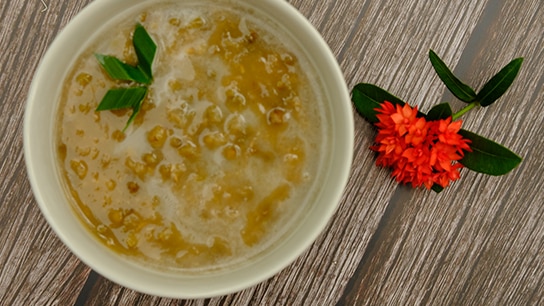 With numerous health benefits, green beans are a nutritious and delicious food that is enjoyed by people of all ages, according to Healthline. They are rich in vitamins and minerals that can reduce the risk of various diseases.
However, cooking green beans can be a very time- and gas-consuming process. If not processed properly, the cooked green beans can end up tough.
Don't worry. Today, Electrolux Indonesia will instruct you on how to boil green beans to save gas with both soaking and no soaking cooking methods:
Soaking: soaking beans overnight or at least 3 hours before cooking
No soaking: applying 5-30-7 cooking technique to cook green beans without soaking
What's more, the post will also reveal step-by-step guidance on how to make green bean porridge.
1. How to boil green beans so they are soft quickly with soaking method
The correct way to cook green beans with soaking method is to soak them in water overnight or at least 3 to 4 hours before cooking. Long soaking time helps to soften the green beans and thus, reduces the cooking time and saves gas.
But what if you forget to soak your beans in advance? No worries, 5-30-7 technique ensures to cook your unsoaked beans to perfection while still saving gas. Better yet, soaked beans can also be cooked with this technique, too. So read on!
2. How to cook green beans with 5-30-7 method: Ingredients
Before going into details of green bean boiling technique, let's start first with the ingredients you will need:
250 grams of green beans
3 pandan leaves
1 liter of water
Now no matter your beans are soaked or not, just follow our instruction.
>> Helpful food storage tips:
3. Boil with medium heat for 5 minutes first
Make sure to bring water to a boil before adding the green beans and pandan leaves otherwise they might turn tough after cooking.
It is also important to use the right heat when boiling green beans. Use medium heat as a low heat can take too long to cook, while a high heat can result in uneven cooking.
After adding green beans to boiling water, boil them with medium heat for 5 minutes and turn off the stove. This is also what the '5' is about in 5-30-7 cooking technique.
4. Let the green beans sit for 30 minutes
The '30' in 5-30-7 means leaving the food in covered pot for 30 minutes. Carry-over cooking technique utilizes residual heat to keep the green beans cooking even when the stove is already off. This is a very important tip on how to cook green beans so that they are soft quickly to save gas.
5. Boil the green beans in covered pot again for 7 minutes
The last 7 minutes of boiling in 5-30-7 is believed to be the key to perfectly cooked food. Turn on the stove again and boil the green beans for 7 minutes with the pot still tightly closed.
By following these steps, you can enjoy perfectly cooked green beans without soaking and sacrificing your gas bill. Green beans are a versatile food that can be prepared in many different ways. As mentioned in the introduction, below is an easy-to-follow recipe on how to make green bean porridge.
>> Read more:
6. Add ginger, brown sugar, and salt to make green bean porridge
In order to make tasty and healthy green bean porridge, you will need the following ingredients:
2 pieces of ginger, coarsely ground
200 grams of brown sugar
​​1/2 tsp of salt
250 ml of thick coconut milk – save this for the last step
Here comes another important tip to keep in mind while cooking green beans. Make sure to wait until the green beans are fully bloomed before adding sugar and salt. This will ensure that they are cooked to perfection.
Don't forget to add ginger as well. Ginger and pandan will remove bad smells if any and leave a unique scent and taste to your food. Mix them well.
7. Last step: Add thick coconut milk and bring to boil again
Add 250 ml of thick coconut milk and bring to boil again. And yes, your mung bean porridge is now ready to be served.
>> Find more quick and easy home recipes from our chefs
Save gas while cooking with a high-quality stove
Whether you are learning how to boil green beans to make them soft quickly or how to make green bean porridge, heat adjustment process is the key. A high-quality stove not only offers accurate and effortless heat control but also helps to save your electricity or gas bill.
Our range of induction hobs and gas stoves offer accurate power control and multiple heat level settings, allowing you to adjust temperature precisely with ease. Electrolux stoves also come with blue flame which burns efficiently to turn up the flavours faster, whilst also keeping your utility bill down.
Electrolux stoves meet your various cooking needs with a stylish and comfortable design
By following our instruction plus using Electrolux high quality stoves, there is no more risk of undercooked food due to incorrect temperature control.
If you are looking for a new stove for your kitchen, check out some of our best-selling products below: