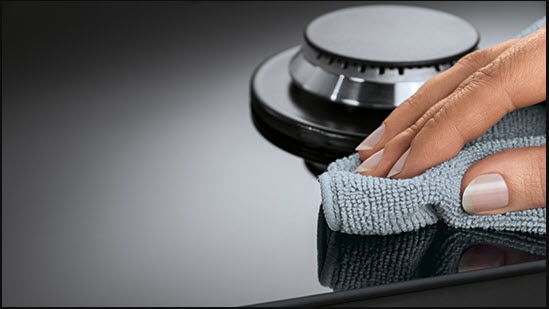 The stove or hob is one of the household appliances that we use daily. Due to its function of cooking food for the whole family, the cleanliness of a stove or hob must always be maintained. If it's dirty, the quality of the food may become questionable.

Fortunately, cleaning a stove or a hob is not difficult. You only need to know the tricks for maximum cleaning in order to maintain the quality of the stove or hob and your family members are guaranteed to receive high quality food.


Step-by-step guidance to clean your gas stove at home


The following are the practical steps to clean your stove or hob at home.


Disconnect the regulator from the gas canister.


Remove the burner and trivets of the gas stove (do this carefully, especially if the stove or hob has just been used for cooking because the burner will be hot), then soak in a mixture of hot water and dishwashing liquid, lime juice, or baking soda (for 1-2 hours).


While waiting, use a dry cloth to wipe the outside parts of the stove or hob. If there are any stubborn stains, use a stove cleaning cream to remove them.


After everything has been cleaned, check all parts of the stove or hob again. Don't leave any dirt behind. Moreover, make sure that all parts of the stove or hob are dry.


Now is the turn for the burner and trivet. Clean all parts using a soft bristles brush, make sure any crusts are removed. Dry.


Place the burner and trivet and reattach all other parts of the stove or hob, including the gas regulator and others.
Electrolux Gas Hobs are easy-to-clean & maintenance-friendly products


For maintenance, clean the surface of the gas hob or stove after every use. For easier maintenance, try our Electrolux Gas Hob EGT9239CK, the best stove that's very easy to clean because the surface is made of tempered glass.

During cleaning, you don't need to wash it because the tempered glass can be washed in a dishwasher. The trivet or pan support is made of sturdy and durable cast iron. For the glass hob, there's even a 10-year protection guarantee!

Aside from durability, the Electrolux 3-burner gas hob EGT9239CK offers multiple interesting features that other hobs don't have, starting from the Aerated Dual-Jet Technology, which gives maximum heating while cooking, blue power fire for high efficiency, fire safety equipment, and others.

So, what are you waiting for? Learn more about our Electrolux gas hob EGT9239CK below or browse more Electrolux stove and hobs here. Equip your cooking corner with the best kitchen appliances with Electrolux Indonesia!

>>> Read more: Stove & Hob Buying Guide