It may have been a while since you have been in the market for a new refrigerator, whilst their purpose hasn't changed, there is new technology to keep your ingredients fresher for longer.
With more style and configuration options on offer, we want to help make the decision process easy by creating this helpful refrigerator buying guide. Read on to find helpful tips for buying a new refrigerator.
1. Refrigerator sizing: things to consider
When finding the right refrigerator for your household, you need to look at the space your refrigerator will live, such as whether you will have enough space to both fit it and give it the breathing space it requires. If you are building a new kitchen, choose your appliances first and build the cabinetry around them as they are elements that need the most consideration.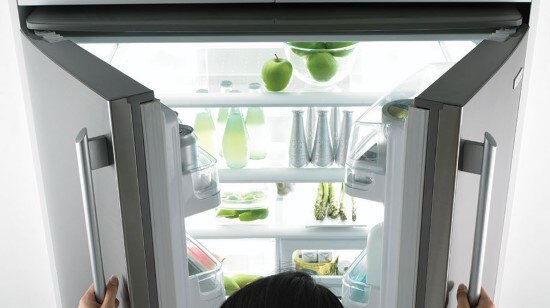 Kitchen layout
When it comes to designing the space for your refrigerator, you need to think about how you'd like to move around the room. It will be important to make sure your kitchen and appliances work with you. Things you need to consider are:
Consider your cabinetry

With your refrigerator, you need to ensure it fits within the cavity you have allocated for it, and it does not need to be a tight squeeze as each refrigerator has its own ventilation or breathing space requirements.
Kitchen triangle or work zones

When planning the layout of your kitchen, you need to think about how you want to work, whether it be collaboratively or individually. You can look to having a kitchen triangle or work zones configuration, and ultimately it comes down to the space you are working.
Work zones have it broken up into five zones: consumables, non-consumables, cleaning, preparation and cooking zones, which is the best layout for working with someone else. If your space is smaller, you should consider a kitchen triangle which your refrigerator, cooking appliances, and sink/dishwasher creating a triangle as if a line is drawn to link them together.
Purpose of your island bench

Whilst the position of your island bench does not have an enormous impact on your refrigerator purchasing decision, it is still something to consider when moving platters and other ingredients in and out of your refrigerator.
>>> Read more: Complete guide on how to clean your refrigerator the right way
Refrigerator sizes
When choosing a refrigerator size or capacity, you will firstly need to think about what fits in your cavity space, however equally important to this is the consideration of your lifestyle and household size.
Lifestyle

Lifestyle considerations may be things such as whether you need a large freezer space, high energy efficiency a particular configuration such as freezer on top or bottom.
Household size

Whether you are living in a family home or with housemates, the amount in your household will affect what is ultimately the best refrigerator capacity for you. If you are on the fence about whether to go bigger or smaller, we advise you to go a little bit larger than you think as you may, at different times of the year, run out of space.
| | |
| --- | --- |
| Household size (number of people) | Refrigerator capacity/volume (litres) |
| 1 - 2 people | 200 - 380 litres |
| 3 - 4 people | 350 - 530 litres |
| 5+ people | 440+ litres |
Does it fit in your hallways and doorways?

Another fridge buying tip to note is that you need to consider how much space you need to safely deliver your refrigerator into its new home. Be sure to measure the clearance before you buy.
What way does it need to open?

Whilst selected refrigerators can have their doors reversed; it is essential to consider what way you need to have your refrigerator door open, which could be limited by cabinetry and walls.
2. Types of refrigerators
French door refrigerators
French door refrigerators are the large capacity refrigerator freezer appliance perfect for any home. They come with plenty of storage and style options such as adjustable storage, as well as ice & water dispensers.
You can configure these into three sections - two refrigeration sections and one large freezer or two refrigeration sections and two freezer sections. Some models include a middle drawer which can be converted from refrigerator to freezer.
Ideal for:
● Large family
● Large kitchens
● Entertainer
Here are some factors to consider when buying a French door refrigerator:
Capacity
500 - 700L
Convertible refrigerator storage
Choosing between 5 pre-defined settings ranging from -23°C to +7°C, our TasteSealFlex convertible compartment adapts to your needs with a touch of a button. You can adjust to your family's needs with ease, whether you need extra space for after-dinner treats or drinks for entertaining, this drawer takes the stress out of the refrigerator and freezer shuffle.
Fresh tasting ingredients for longer
TasteLockAuto maintains a humid environment to keep fruit and vegetables fresh with flavour for up to 7 days. A membrane automatically releases excess moisture to reduce condensation and stop your produce from spoiling early.
Fresh filtered water and ice
Serve yourself with chilled water and crushed or cubed ice through the refrigerator door anytime you need a refreshing drink.
FlexStor for flexible storage
With moveable door bins and the flexibility to slide back or flip-up some of the refrigerators, shelving allows adjusting your refrigerator storage to suit each grocery shop.
Dark stainless
You want your kitchen to survive the ever-changing trends by choosing timeless design elements and classic materials that will look good today and in a decade. You can incorporate dark stainless steel appliances into your plans, taking your kitchen in a fresh new direction.
Keeping your refrigerator clean of fingerprints
Whether there are little fingerprints in your household or just adult ones, we know fingerprints on your refrigerator are a problem in every family. We have made selected refrigerators with fingerprint-resistant stainless steel, maintaining a picture-perfect look for your refrigerator at all times.
Below are Electrolux's recommendations for buying a French door refrigerator:
Storage space for all types of food and drinks.
TasteLockPlus keeps vegetables fresh for 7 days*.
EvenTemp reduces temperature fluctuations.
TasteSealFlex ideal storage with 5 temperatures.
TasteLockAuto keeps vegetables fresh for 7 days*.
TwinTech cooling help preserves taste and texture.
Side by side refrigerators
Providing easy access to your refrigerator & freezer, you will have the right balance between the two spaces without taking up a large footprint. Coming with features found in larger and smaller capacity refrigerators, you can easily organise your space.
Ideal for:
● Families
● Medium household
Here are some factors to consider when buying a Side by side refrigerator:
Capacity
500 - 620L
Quick chill function
Whether you have unexpected guests or are simply in a rush, you can use the Quick Chill function to cool things down quickly. For 20 minutes the refrigerator will bring its temperature down to cool down its contents, once the 20 minutes have elapsed the timer alarm will notify you.
Know your temperature
With temperature sensors and internal temperature display, you can see clearly what temperature your refrigerator and freezer are at with the touch of a button.
Easy electronic controls
With internal electronic controls, you can easily adjust the temperature on your refrigerator or freezer to match your needs and use functions such as Quick chill with a timer or quick freeze function effortlessly.
You won't leave the door open
With a door sensor and door alarm you are notified when you leave your refrigerator door open, helping you to have your refrigerator working at its best.
Frost free
With a built-in frost-free system, gone are the days of needing to schedule in the freezer defrost.
LED lighting
Our refrigerators have LED lighting helping you see every cm of your refrigerator, ensuring no ingredients or food goes to waste.
In addition to the features above, side by side refrigerators also come with options such as fingerprint-resistant stainless steel and FlexStor for flexible storage.
Below are Electrolux's recommendations for buying a side by side refrigerator:
2. Door refrigerators: bottom freezer
Perfect for a first refrigerator coming in a range of capacities, a bottom freezer refrigerator is perfect for a small family or apartment living where your space is limited. Coming with quite a few features seen in large capacity refrigerators, this layout is perfect for someone who wants easy access to their refrigerator over their freezer.
Ideal for:
● Small family
● Apartment living
● Share house
Here are some factors to consider when buying a bottom freezer (2 door) refrigerator:
Capacity
300 - 520L
Fresh meat and fish, all week
Enjoy tender meat and delicious seafood with fresh ingredients. Our TasteSeal compartment retains a consistent condition of -2°C to keep your meat and fish in prime temperature for up to 7 days without freezing.
Even temperature for tasty food
Our EvenTemp feature preserves your food fresh for longer by minimising temperature fluctuations. By keeping each shelf cool individually, a consistent temperature condition is well-maintained throughout the entire compartment, keeping delicious taste and texture for longer.
Clean, hygienic storage
TasteGuard keeps unwanted odours away from your fridge using a carbon filter. The taste and smell of your food will be preserved longer in clean and hygienic condition.
Twist. Serve. Enjoy.
Electrolux offers Twist and Serve ice maker feature to help you conveniently store cubed ice for your favourite chill drinks. Fill the ice tray with water, let it freeze for a while, and twist the knob to release the cubes into the storage container.
Besides the above features, top freezer refrigerators also come equipped with other highlight functions such as:
● FlexStor for flexible storage
● Quick chill function
● Frost free
● LED lighting
Below are Electrolux's recommendations for buying a bottom freezer (2 door) refrigerator:
TasteSeal keeps fish for 7 days* without freezing.
TasteLockAuto keeps vegetables fresh for 7 days*.
EvenTemp reduces temperature fluctuations.
2 Door refrigerators: top freezer
A top freezer refrigerator is a more traditional layout of single door refrigerator with the freezer placed at the top for eye level access for your frozen ingredients or treats. This style of refrigerator would be suitable for a small family or apartment living where you access your freezer quite regularly.
Ideal for:
● Small family
● Apartment living
● Share house
Here are some factors to consider when buying a top freezer refrigerator:
Capacity
250 - 500L
Excellent energy efficiency
By keeping the temperature in your refrigerator consistent, the NutriFresh inverter compressor helps to save energy efficiently, while still keeping food and drinks fresh.
Customisable door design
FlexStor makes it simple to customise the refrigerator to your needs with adjustable door bins and shelves. Electrolux refrigerators offer different sized compartments which effortlessly accommodate items big or small.
Hygienic, convenient storage
The stainless steel tray is easy and simple to remove and wipe clean. It also ensures a hygienic and fresh condition for your meat and seafood.
Other features also offered for top freezer refrigerators include:
● Frost free
● LED lighting
● Door sensor and door alarm
● Twist and serve ice maker
● TasteSeal keeps fish for 7 days* without freezing.
Below are Electrolux's recommendations for buying a top freezer (2 door) refrigerator:
Portable refrigerators
If you need more space for drinks or need a small refrigeration and freezer option for short stay accommodation a bar refrigerator is worth your consideration. With shelving and full width ice box you are able to store your items the way you want to.
Ideal for:
● Drinks storage
● Student or short stay accommodation
Here are some factors to consider when buying a portable refrigerator:
Capacity
40 - 100L
Compact and convenient
Perfect for when you are limited with space or need refrigerator storage in a home bar.
LED lighting
With LED lighting to show you the contents of your bar refrigerator, you can be sure that you will be able take things in and out with ease.
Below is Electrolux's recommendation for buying a portable refrigerator:
3. Refrigerator design & other considerations
In addition to the abovementioned tips for buying a new refrigerator regarding capacity and type, there are also other factors to take into consideration as follows:
White, natural or dark stainless steel
We all know the expense that goes into renovating a kitchen and want it to last as long as possible, you can do this by using classic materials and having some elements elating to current trends as you don't want to be renovating every time the trend has made its way out.
Your appliance finish choice could be away to take your kitchen in a fresh new direction without taking too much risk. There are three options in appliance finishes with traditional white or a more modern update with natural or dark stainless steel.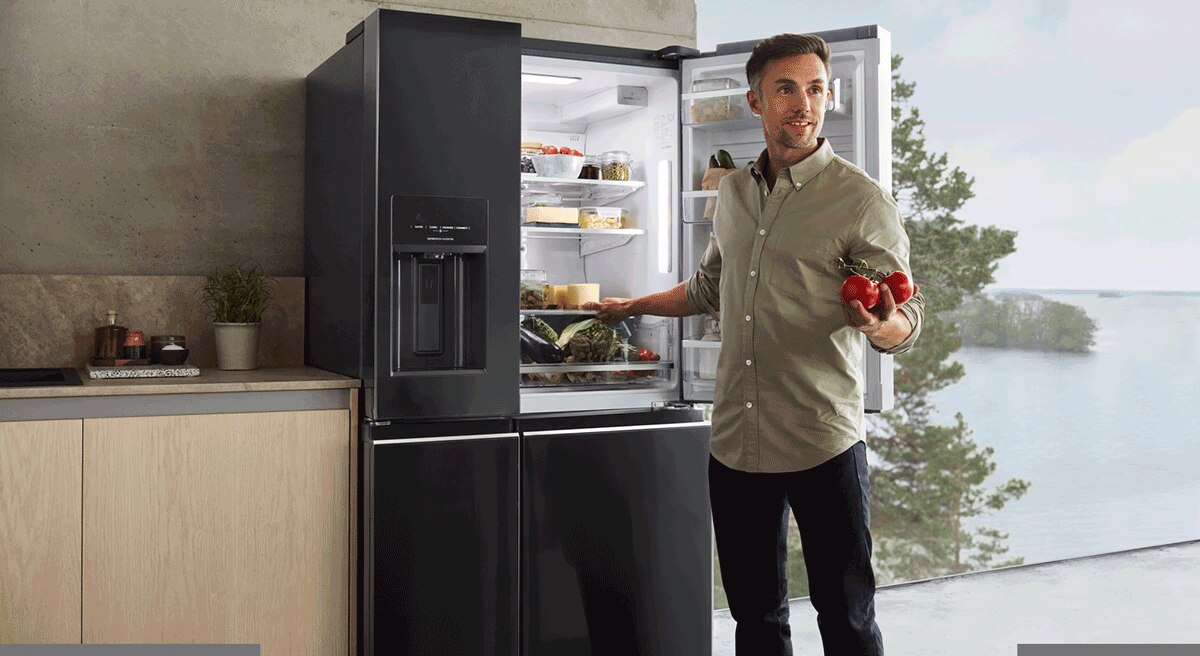 Contrast or complement your cabinetry
When buying a new refrigerator, it is important especially when you are fitting it into an existing kitchen, what finish would work with your cabinetry. If you have light colours such as bright whites or cream, you can use dark stainless steel as a contrast, adding a statement in a light kitchen or you could use it to complement a dark or stained wood kitchen.
Coordinate your accessories
When planning your kitchen design and thinking about styling elements such as lighting fixtures, splashback colours or artwork, it is important to consider what complements different elements of your kitchen. These can include cabinet colour or style, what finish you have chosen for your appliances and more.
Choose from one brand
One thing to note when upgrading your kitchen is, just as there are 52 shades of white, same goes for appliance finishes. For the best results, buy your appliances from one brand to make sure everything is seamless.
Does your refrigerator need to be plumbed
When looking at refrigerators that come with an ice and water dispenser, you will need to consider the need for it to be plumbed, which could add to the cost of installation where models without are plug and play.
4. Refrigerator warranty & service
Warranty
Subject to terms and conditions our refrigerators come with 12 months warranty in Indonesia, following the date of purchase. Click here to view Terms and conditions.
Support & service
We have a Customer Care team available to assist you over the phone seven days a week, and a national network of experienced technicians and selected service agents. Offering a fixed price guarantee with no additional hidden labour costs, giving you peace of mind that your appliance is in good hands. Click here to contact customer care. Click here to book a service online.
Refrigerator FAQs & buying tips